Equity markets finish third quarter strong
Equity markets reversed their August losses, moving sharply higher for September and for the quarter. The Dow Jones Industrial Average, posting its best September since 1939, was up 7.85 percent for the month and up 11.13 percent for the third quarter. The S&P 500 Index gained 8.92 percent in September and 11.29 percent over the quarter.
 The September gains moved both major U.S. indices back into the black for 2010, as the DJIA is up 5.57 percent and the S&P has gained 3.89 percent year-to-date. Markets reacted favorably to further speculation that the economy would not slide back into recession. Although recent economic data has been weak, the reduced threat of a double-dip recession put many market participants at ease.
 Overseas markets also rallied after the August slump, with most major markets again looking past lackluster economic data. The MSCI EAFE Index gained 9.80 percent for September and 16.48 percent for the quarter, as investors' appetite for risk pushed markets higher. A taste for risk was particularly evident in the emerging markets, which were up 10.87 percent for the month and 17.16 percent for the quarter.
In the commodities space, investors continued to demonstrate an insatiable appetite for gold, based on concerns over currency devaluations and the potential threat of future inflation. In late September, gold closed above $1,300 an ounce for the first time ever, and investor interest went unabated. The spot price of gold, as indicated in Figure 1, has increased 18.91 percent year-to-date.
Figure 1. Gold Spot Price: April 2007–August 2010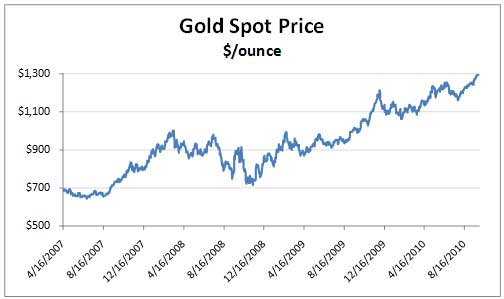 Source: Bloomberg
Fixed income flows help support bond prices
Flows into fixed income continued at a record-setting rate throughout the third quarter, helping to support bond prices, while equity flows have been negative for six of the last nine months.
Read more...