‍February 2023 - Is a Recession on the Horizon?

IF THE US ECONOMY GOES INTO RECESSION DOES THAT MEAN YOUR PERSONAL ECONOMY WILL TOO?
‍Join LeConte founder, Hoy Grimm, as he discusses the recession talk and how to prepare your finances for it. 
---
Lessons from the old-timers
In a recent discussion with some friends about our modern-day, techno-savvy society, one of my friends said, "Well, we're so old fashioned that we still plant by the signs!" Here is the background for those unfamiliar with this term. Going all the way back to biblical texts, farmers have used the stars in the sky to discern how to get the most from their agriculture efforts. They used the constellations in the sky to guide their planting and harvesting activities. Eventually astrologers recognized the patterns that the stars made and divided these into a 12-part path and gave names to each of those stages. This belt of signs was called the Zodiac. A planting chart/calendar was developed for the beginning of each symbol of the zodiac.
‍Old-school stock and bond traders (author included) abide by their own durable if not completely scientific trading rules. Yale Hirsch published the first edition of the Stock Traders' Almanac in 1968 as a tool to help investors recognize the patterns that repeat across the calendar. He invented and named the "Santa Claus Rally" in 1972. If you've heard the phrase "Sell in May and go away," you've encountered another of Mr. Hirsch's bromides.
Since 1949, we have had 13 years with... 
>To read the rest, click here
Hoy Grimm
Managing Partner
LeConte Wealth Management
---
‍
This month, Karla celebrates her 1-year work anniversary! Newer to the financial industry, Karla is so much more than our Client Concierge. She is the first friendly face you see when you walk through our front door, most often the first person you talk to on the phone, she plays a huge role in our client's experience and she serves on the operations team.
Karla brings organizational skills, a hunger to learn, an adaptable spirit and a positive + curious attitude to our team. She embodies the LeConte Wealth core values of having fun, being a good team player, displaying integrity in all things and she takes ownership in the successes and failures.
Help us congratulate her!
Client Concierge
LeConte Wealth Management
---
It passed!
While many were still in a deep sleep from the 8 meals they ate per day over the Christmas holiday, the SECURE 2.0 Act was signed into law on December 29, 2022. My colleague, Jon Dockery, wrote about the possibility of this change in May of 2022 when he penned the blog post: "Change Ahead: What could a 'SECURE ACT 2.0' do for you?" At that point, it was known that Congress was working on a new bill that would build upon the SECURE Act, but the details were still in limbo. Both the SECURE and SECURE 2.0 Acts were created to increase the access to tax advantaged accounts and help prevent Americans from outliving their assets (aka. to enhance financial security)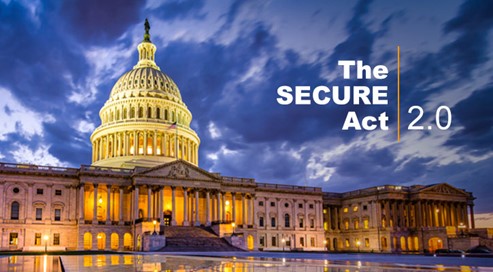 These bills have come at a much-needed time, as the U.S. retirement system's future has many uncertainties.While we may be waiting awhile for the implementation of each change, everyone has a choice to be proactive in educating themselves on the changes to our system and the option to take advantage of the opportunities that are available. Below is an overview of the changes in the SECURE 2.0 Act:
Client Advisor
LeConte Wealth Management
---
‍

LWM walked away from the United Way of Blount County Annual Meeting with the recognition of the 18th most generous workplace to our local United Way.

 


Thanks you to our clients, but also our team for their open hands and generous hearts in supporting an organization that helps Blount County's most vulnerable.

LeConte at Best of Blount Awards

 


LWM team members at the Best of Blount Awards. (Pictured L to R: Alex, Kevin, Wes, Hoy) LeConte was nominated for the Business of the Year alongside multiple other Blount County businesses.

 


Thank you to our team and our client's who helped make this possible!
Contact us

865-379-8200

info@lecontewealth.com